Oakridge Local History Group
Wednesday 26th September 2018 at Oakridge Village Hall at 7.30pm
Barry Harrison: Charles Mason of Oakridge, astronomer and surveyor.
The Stroud Valleys in the Great War – Free Exhibition
Saturday 3rd to Sunday 11th November 2018 at the Museum in the Park.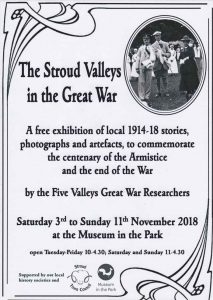 An absorbing exhibition of local 1914-18 stories, photographs and artefacts, to commemorate the centenary of the Armistice and the end of the War.
By the Five Valleys Great War Researchers.