Wednesday 17th March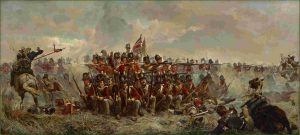 Andy Meller gave a highly informative presentation about the Glosters (the 28th N.Glos Regiment of Foot). Originally formed in 1694 and having fought in the Iberian peninsula and Eygpt, the Glosters had a high reputation, and were summoned by Wellington to Waterloo to boost British forces when Napoleon retook control of France. They fought in two major battles, on the 16th June at Quatre Bras, and 2 days later at the decisive battle at Mont St Jean just south of Waterloo. Sustaining substantive losses they were highly praised by Wellington, mentioned by name in dispatches.
Wednesday 17th February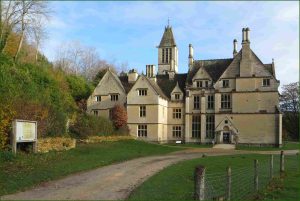 Woodchester Mansion

Liz Davenport gave a fascinating account of how William Leigh bought the estate of the former Spring Park, aiming to create a Catholic enclave. Having completed the Church and Priory at the nearby Woodchester site, Leigh was running out of funds. Progress towards constructing a new mansion was slow and Bucknall, the principal and talented (if somewhat inexperienced) architect may have struggled with Leigh's perfectionism. The Leigh family were also hit by a series of bereavements, and although by 1866 the roof was on, when Leigh himself died in 1873 the project foundered. Liz highlighted many of the architectural gems on site – from ceiling bosses that reflect the local environment, to the magnificent gargoyles, to the chapel's rose window. The 'tour' certainly whetted the appetites of many for a live visit as soon as that is possible.
Wednesday 20th January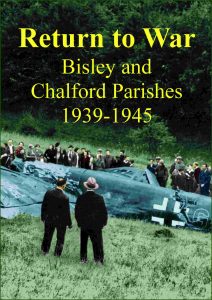 Our local WWII research group (Camilla Boon, Roger Carnt, Heather Collins and Pete Drover) gave a fascinating account of some of their work to date. Heather detailed the extensive planning for War by the Home Guard and numerous other agencies – from firewatch duties to air raid shelters. Pete tracked the flight path and subsequent crash of the Lancaster bomber in 1946 that came down onto Templewood House in Brownshill. Camilla outlined the salvage and reclamation efforts for paper, metal, bones, rags and food – promoted through wonderful cartoons and slogans. Finally Roger told the story of Gilbert Chester Aldridge, a keen local footballer, who died in May 1940, probably by a dive bomb at Dunkerque. Later this year they hope to publish the book, which will cover many more aspects of the impact of the War locally.