March 2019
Nikhil Katyal from Mumbai, India, has been researching about Rev. Pitt Eykyn (who was Priest in charge of his church, St. Stephen's in Bandra, Bombay at the beginning of 1900s and found he had been the curate in charge of St John's, France Lynch. He is seeking further information.
We have established that Revd Pitt Eykyn became the third Curate at St John's in 1878 up until 1884, when he moved to Ashton gate, and later to Monmouthshire.
It seems that Pitt Eykyn moved to India in 1906 to be close to his son when he was serving there.
He was involved with the Central Council of Church Bellringers, who posted a short biography of his life 
There are a couple of newspaper articles about Pitt Eykyn's time in France Lynch attached, indicating that he died whilst taking a service at St Stephens.
January 2018.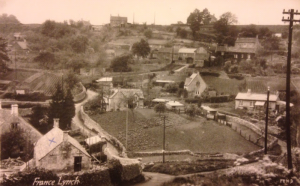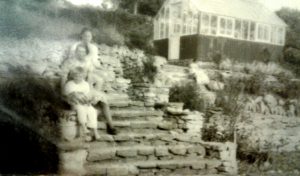 Contact from Hilary Ellis, who sent in this postcard picture of France Lynch. Her father thought the picture was dated about 1935 when her grandparents (Dennis and May Stockley) were renovating the cottage marked X in the foreground. She also sent this picture of May Stockley and her children.
Answer: We think the cottage is the one now called 'Horsepools'.  Mike Mills has told us that Dennis Stockley was a butcher from Bristol who moved into the village in about 1936/7. They had two children, Nigel and Denzel, who went to school with Mike. He thinks the family left during the war. In the village picture one can see a large vegetable plot that was owned by Mr Baker who was a signalman on the railway. It was always well tended.
September 2017. Query from Bob Young about a picture from his family album showing school children and their school teacher from about  1909-15. His Great Aunt Lily Aldridge appears in the photo. She lived at the Wheatsheaf Cottage behind the Wheatsheaf Public House,  married William Clissold and moved to Bussage. What is  the school ?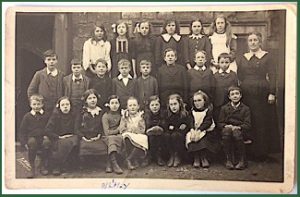 Answer:  The photo is of Chalford Hill School, then known as the 'Council School' – it had been the British School established with support from the non-conformist communities in the village, but  taken over by the County Council in 1904.
August 2017. Query from Allan Tott and family were  in the area, tracking down a family brass  on a tomb located in France Lynch, in  the 'Old Vestry' burial ground. The brass belongs to Samuel Hunt and other members of his family ( Ruben / Ezra / Elizabeth), and they wished to get access to it. 
Answer: the Old Vestry is located at the junction of Brantwood Road, Keble Road and Coppice Hill to the left of the former bus shelter. The site is a little unsafe and the gate is locked but access can be arranged at certain times of the year by arrangement with the custodians of the burial ground.
April 2017.  Query from Derelie Cherry and family. Derelie's birth mother's family (name of Shilham) came from Chalford and she is interested in finding out as much as she can about the Shilham family who lived in Cowcombe Woods probably in the 1890s. Henry Shilham was living there in 1903. Frank Shilham (born 1895), son of Harry and Matilda Shilham worked as an engineer at Daniels before joining the Gloucs Regiment. He died on October 13th 1915 near Loos. Fanny Shilham, who is Derelie's grandmother, married 3 times – firstly to Harry (perhaps Harold) Munday with whom she came out to Australia from England in 1912 on the boat the 'SS Gothic'. Her second husband was James Robert Graves (Derelie's grandfather -maybe originally from Glasgow) and after he died she married Soloman Rabin.
Answer:  Several people were able to help. An inscribed pot commemorating the resting place of Henry and Emma Shilham (Derelie's great grandparents) was located at Forest Green Cemetery – this may be from a pauper's grave which has no headstone. Other relatives are buried at Chalford Baptist Church. Mike Mills was able to supply pictures of the house in the woods.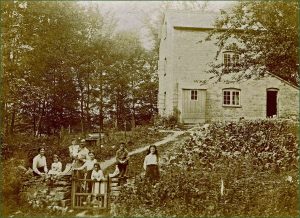 Autumn 2016. Query from Mark Bowkowski about a reference to Iles Lane mentioned in a 1933 motor magazine.  http://www.motorsportmagazine.com/archive/article/january-1933/6/london-gloucester-trial
Answer: Iles Lane is now called Hampton Lane, leaving the A419 southwards and passing Iles Mill. It is just a rough footpath as it climbs first over the railway line and then up the hill. The last part is a narrow tarmac road leading to the hamlet of Hyde.  These two pictures show the same part of Iles Lane near the top, so in Hyde rather than Chalford.