Please use the Contact Form to submit a query relating to Brownshill, Bussage, Chalford, Chalford Hill or France Lynch. Unresolved questions may be posted here. If you have any information to help with any of these queries, again please use the Contact Form
January 2020
Zita Cox is looking for information about Chestnut Lodge which is on the London Rd within the drive for Hallidays Mill. 
Historic England record Chestnut Lodge as being built as mill-owner's house for the adjacent Stoneford or Halliday's Mill. It is thought to be early C19, possibly incorporating an earlier house.
October 2019
Mark from Sydney is keen o find you more about his family. His grandmother, Olga Pieper, was born at the Gravel Villas opposite St Marys Mill. His Great Grandfather, Herman Pieper, was a german migrant that lived there from the early 1880's and worked at the Bliss Mills making walking sticks.   Herman had
married Christina (in Hamburg 1879) and they migrated in 1880. There were 3 other children in the family that survived the era.  William Pieper oldest 1882 -1929 had offspring that may still live in the area.
Early enquiries indicate that Herman sadly died by suicide at the mill in 1904. There were many descendants who appear to have lived mostly in the Thrupp area.
August 2019
Mark from GLHA is looking for information about two families: the Cooks and Peaceys. 
Mark is looking for information about his great great grandparents, Robert Cook (Clothworker, of Chalford) and Martha (?nee Casey). He is trying to find where Robert worked and any other information. He was born around 1780 in Stroud, and had an earlier marriage to another Martha (possibly Mayer, Mayor or Mayo).
He'd also like to find out about Thomas Peacey, born 1774 in Bisley to (possibly) Richard Peacey and Anne Grime(s). He married jane Gardiner in Minchinhampton in 1814. There were two Peacey brothers who owned Sevilles Mill, but Mark has yet to establish a link, and would like any information on the family.
April 2019
Vicki Colabella from Derbyshire is researching her family tree and  has discovered that generations of my relatives all descended from around Gloucestershire, particularly Bisley/Chalford & Stroud. She is looking for people who have knowledge and photos of  the Antill/Gardiner(Gardner) Families?
The earliest record she can find is from way back in the 1600s.
If anyone would be able to help her, she can send over a list of names/dates/places, to see if anyone has any information? 
November 2018
Barbara Pursell has been in touch from Australia as she is trying to find out more about her 4 ancestors with the surname of Pursell – all Roman Catholics:
–   Elizabeth Mary (sometimes Mary Elizabeth) Pursell b 1867 d 1961 – her residence when she died was St. Mary's, Brownshill, Chalford
 –  Ellen Pursell b 1871, d 1955 'Maryvale', Bisley, Gloucestershire (Nurse)
 –  Beatrice Pursell b 1878, d 1951 St Gabriels Bussage, Chalford
 –  Jane Jenson (Yanson) Pursell b 1868 (not known when or where she died).  At one stage she was living with her sister Ellen Pursell at 6 Tibbiwell Gardens, Painswick as a Governess
The 4 sisters never married. Barbara is trying to find out where they died and were buried, or any other  information or old photos.
August 2018
Deana Milne from Australia is  researching the life of her  Grandmothers life (GLADYS DAVIES) who was in service at 'Laregan House' in France lynch. Her mother remembers some staff & family names and can remember being taken there as a child to visit the daughter who then owned the house after her grandmothers employers had died. She says they went by bus and the bus stop was right outside the house. Gladys Davies lived there from 1931-1935 & from 1937-1939 when she left to get married (to a Stevens, another local Chalford family). The electoral roll list  her being in 'Larrigan Hill' but this may be the house called Laregan in France Lynch GL6 8LZ. In 1936 it seems she was at the Franciscan Monastery in Woodchester, I assume for the whole year but then moved back to Laregan the next year. Any information  would be most gratefully received. 
July 2018
Pauline Stevens is asking which of the following pubs were open in the 1960's
   – Brownshill Railway Tavern
   – Chalford Bell
   – Chalford Mechanics
   – Frampton Mansell Oak Inn
So far Tony Hudson has told us that The Railway Tavern was still open in the fifties (not known when it closed).    The Bell was demolished in the early sixties, but  final year of trading unknown.  The Mechanics Arms traded all through the sixties and subsequently changed its name to The Old Neighbourhood Inn in 1992 (still trading).   Mike Mills says that The Oak in Frampton Mansell was on the canal by Puck Mill upper lock, and closed in the 1930's. The last landlords were Mr & Mrs Elliot. It later became a farm house. John Parsons has told us that according to page 28 of "Village Camera" by Miss Pinnell with the Children of Sapperton School (Alan Sutton, 1990),  the Oak Inn at Puck Mill Double Lock closed "around 1922 when trade from canal boats dropped."
May 2018
An Australia lady, Barbara Hursey, is seeking information about her father's family history – the GARDINERs who were parish
assisted (Thos Keeble) to travel to Australia in 1842. Also her husband's family (Hursey), who lived and died in Bisley (Maryvale, Wells R), St. Mary's Brownshill, Chalford & St. Gabriels, Bussage, Chalford.  There were 3 spinster sisters, who were all living at one time together at Maryvale, Wells Rd. Another of her older ancestors on her Mother's side was involved with the very early construction of the Thames & Severn Canal. Any information would be much appreciated.
March 2018
Barry Tylee has been researching his late mother's side of the family. She was born in Chalford in 1924 at a property called the Ducks Nest, situated up on the left on Hyde Hill. His Grandmother was a DEAN and her husband was a GARDINER (both very popular names in the area). They moved to Minchinhampton around 1939/40. The property was then demolished. He would be very interested to know if anyone has a photograph of this property. He still has a living cousin who was also born there. He would be very grateful for any information regarding this subject.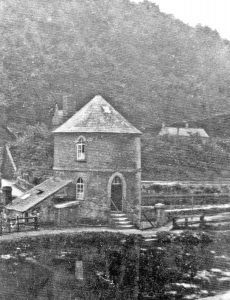 The properties can be seen more clearly in background of the photo of St Mary's Mill on our home page
February 2018.  
Meg Davis-Berry is trying to trace an artist who painted in the Chalford area in the mid 20th century.
She has a self portrait which is signed Kitty and a painting of a mill signed KP. She might have had connections with a London group of artists and possibly trained at the Slade. She died somewhere between 1990 and 2000.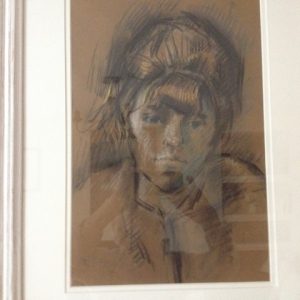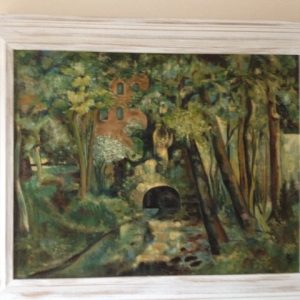 January 2018.  Dan Bevan is trying to discover the whereabouts of my distant relatives, William and Chatherine Long.  From the 1841 and 1851 census William Long of Cowly (b1777-1781) and his wife Chatherine Long (nee Davis) of Ireland (b1782-1786) lived in Chalford Lynch and the Wheatsheaf Inn.  His occupation was  grocer for both those census enteries.  William Long came from Cowly and his direct descendants, also Longs, come from Cowly.  They had a niece called Margaret Davis living with them in 1851, who married Rowland Granville Long in 1852 in Chalford Hill.  They are Dan's great great grand parents and both moved to Birmingham between 1852 and 1861 and died there.  He is wondering if there are any parish records (marriage/death/burial) of William and Chatherine Long  or any information on Margaret and Rowlands marriage.
December 2017. Anne Milner (nee Bliss) has been in touch to say that her ancestor Edward Bliss lived at Green Court in the 1700s and his son Thomas moved on to Chipping Norton where the family built the Bliss Mill. She is interested in finding out more about Green Court and the family before they moved there. (Edward was born in 1707 and she only knows that his father was Thomas of Minchinhampton).

October 2017. Query from Helen McBride (who lives in Scotland) whose grandparents Herbert George Holmes/Mabel Ellen (Helen) Holmes nee Pethrick/Pedrick lived with their family at Ashmeads Cottage in Chalford. Mabel died there in early 1925 following childbirth.  Herbert was a signalman on the railway.   She is trying to find out how long they lived at Ashmeads Cottage, where my grandmother was buried and anything else about the family's life there..maybe school records, church records, who owned Ashmeads Cottage and so on.  
September 2017. Query from Tracy re the Wichard family. She says her grandad and some of his family lived at 11 New Building in Chalford. His name was Arthur James Wichard and his father was William Wichard. She is looking for more information and would be grateful if anyone can help.    
September 2017. Query from Steven Merry who is looking for any information about Walter Goodman's time in Chalford. He lived here for about 5 months in 1884, painting at least two landscapes of the valley below from the brow of a hill at Cowcombe Woods overlooking the village.
June 2017.  Assoc. Prof. Andrew C. Rouse, for the University of Pécs in Hungary has asked if there might be a link between Chalford and a little village called Csáford in Hungary, just west of Lake Balaton. There is a local story there that an English medieval knight, returning from the Crusades, performed a service for the Hungarian king and gave him land. On the recent death of his mother he found in her address book a contact in Chalford. He wonders if this is a coincidence? Or did the mysterious English knight, on receiving his fiefdom in Hungary, name it after the place he had left in England? Andrew will be in the area in late June so any ideas welcome.
January 2017. Query from Rupert Peploe about the Webb Family
"I have been doing quite a bit of research into the ancient and very interesting Gloucestershire Webb family of clothiers/weavers who were settled along the Stroud valley and its tributaries.  By tradition they descend from a group of 70 Flemish families who were encouraged to settle around England in 1330 by Edward lll. Apparently the weavers of the Gloucestershire beat all the competition, and the best of them all was given the name of Webb and a coat of arms by the King. By the late 17th Century they had proliferated and held numerous prosperous mills in the area, but my research does indeed suggest they do converge to a common ancestor in the early 14th century! Their coat of arms can be seen on many dusty church monuments along the Stroud Valley.  By the nineteenth century the cloth industry had gone into decline and many of these now impoverished Webbs moved away and into different professions. It is therefore very difficult to find Webbs about now who can trace their roots back to this this ancient clothier family.  However the Webb One Name family history group has information from a Richard Webb of Chalford (born around 1855) who in the 1920s gave a series of talks about his family history, and his two sons Jesse and Frank Webb are mentioned on the The Great War and Chalford Forum.  (Francis Joseph Webb)
I just wondered if you knew any of his descendants who still lived in the village who might be interested and be able to provide further information please.  It would be great to be able to link them up to my family tree.
My family were Webbs before they changed their name to Peploe in 1845 and I can trace them back to a mill owner at Eastington in 1440."
October 2016. We (CPLHG) had a query sent to us via the Parish Council from Shirley Wheatley from County Galway Ireland, who was born in May 1949 at the Bunch of Nuts, Marle Hill Chalford to Ruby and Bill Tombs.   Her Grandfather drowned in the River Frome at Brimscombe in the August of the same year. It seems that at the time she was living at 14, New Buildings, Chalford Hill (thought to be council houses). Does anyone have any idea where this was please? Please get in touch if you can help.
October 2016. John Parsons would like to find out more about the artist Joseph Albert Colquhoun Morrison (1882-1964) who lived in Chalford from 1929/30. His landscape of Chalford normally hangs in the village hall. During restoration it was found to be mounted over a portrait of an unknown youngish woman surrounded by soft toys. Morrison seems to have been a school master (not known where) and was an active member of the Conservative party, but little else is known about him. Please get in touch if you can help.