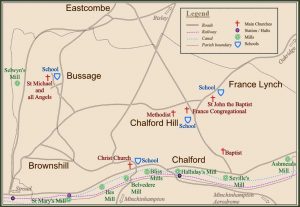 Chalford Parish Local History Group (CPLHG) was convened in Spring 2016 by the team who had researched and subsequently published the book A Parish at War, Brownshill, Bussage, Chalford & France Lynch, 1914 to 1919.  The book documents all those from the parish who fell in WWI and also includes information about activities on the home front.
We aim to promote all matters of local history interest in our parish, an area that includes Brownshill, Bussage, Chalford, Chalford Hill, and France Lynch.
We meet monthly, excepting August and December, usually with an outside speaker. Meetings are held at a number of different  locations in the parish, usually France Lynch Church Rooms, Frith Youth Centre or Christ Church, Chalford.
Meetings are currently held on the third Wednesday of the month.  Attendance is open to all at a cost of £1 for members and £2 for non-members.  
Guests always welcome – do come along.
Full Membership information is here and our Constitution here.