Wednesday 15 November 2023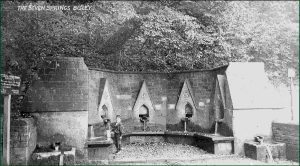 Alan Pilbeam gave a fascinating talk about Healing Springs, Holy Wells and Spas. Gloucestershire has an abundance of Holy Springs, reflecting the numerous spring lines that accompany our geology, and the monastic heritage of the County. Alan proposed that the site at Chedworth, claimed to be that of a Roman Villa, might in fact be a healing centre. Some holy wells date back to Saxon times, including St Kenelm's (Winchcombe), St Anthonys (Forest of Dean) and St Edward's (Stow). Many closed following the Reformation. The development of Spas came in the 18th century; locally Cheltenham benefited greatly with the population increasing from 3000 in 1801 to 23,000 in 1821. The spas of Sherbourne (Pitville) and Montpellier were the largest, each with a promenade leading back to the town centre. 
Wednesday 18 October 2023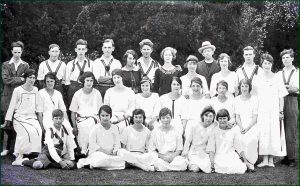 Martin and Shan Graebe entertained us with a lively and fascinating account of the (very) local flowering of the folk dance and song revival at the end of the 19th and beginning of the 20th centuries. The national movement grew in response to the industrial revolution's demographic shift from countryside to town, and the linked impulses to preserve both rural arts and crafts and traditional music and dances, which threatened to become utterly lost. We heard about three women who were keen teachers of dance and song: Laura Swanwick, who lived in Coates, Emily Gimson (wife of Ernest Gimson, well-known for his Arts and Crafts work) from Sapperton, and Margaret James from Edgeworth. They were well-connected with people such as Cecil Sharp, the major collector of folk music, whom Laura Swanwick introduced to Charles Smith, a local postman with a good repertoire of songs and also involved in  Mumming plays. Martin referred to many local arts and crafts figures and their interest in folk music and singing; he and Shan themselves performed several songs, including one called 'Queen of the May', which was collected from Rose Tritton, who had learned it at school in France Lynch in the 1920s. Folk dance in Chalford was popular under the same vicar, Walter Carder (in post 1924-1952), who was responsible for the late Arts and Crafts fittings at Christ Church, Chalford. A wonderful and enlightening evening.
The CPLHG AGM was held, at which the current members of the Committee were confirmed in post, including newly co-opted member Heather Collins (Heather has been involved in many of CPLHG's projects since our inception).
The report from Roger Carnt, Chairman, is available here:
Wednesday 19 July 2023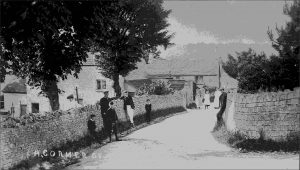 The weather stayed fine and 22 of us were treated to a really enjoyable walking tour of Eastcombe, adeptly led by Peter Drover. We started by Thomas Keble School and the history of the Bear Inn opposite (now St Mary's). Next came the involved history of the St Augustine of Canterbury Church (now a private residence) which began as a combined school during the week and a church at other times. A picture was shown of the tin church, which later became the village hall, but burnt down in 1961. Isaac Fawkes made his fortune in London and returned to his native Eastcombe a rich man and built one of the most imposing houses in the village at The Triangle. He was a generous philanthropist. Henry Hook was another Eastcombe man who made good – among other things he was an architect and builder of many properties that we saw. Peter showed us the house he built for himself. Along Fidges Lane, Fort View was pointed out – Rodborough Fort is, surprisingly, about two miles due west. We finished near the Baptist Church (enlarged, at cost only, by Henry Hook) and Eastcombe School. The foundation stone was laid by Sir Samuel Morton Peto. He is worth Googling – e.g. he oversaw the building of Nelson's Column and the Houses of Parliament! These were just a few of the many stories Peter told on an informative evening enjoyed by all.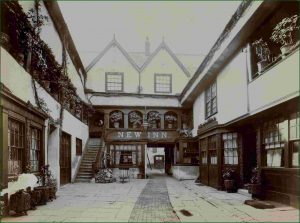 John Putley gave a fascinating and entertaining overview of the traditions of pilgrimage. Dispensation for the expected years in Purgatory could be obtained by making these perilous journeys, risking disease, hunger, discomfort, high costs and robbery.  Destinations included the Holy Land, Rome, Santiago de Compostela; and Canterbury and Walsingham in the UK. Churches along the route would provide shelter. Most holy sites sold souvenirs such as amulets or badges so the pilgrim could prove his/her success to the local priest.Local holy sites visited include Hayles Abbey, St Oswalds Priory, St Peters Monastery (later Gloucs Cathedral), St Marys Abbey in Tewkesbury and St Kenelms at Winchcombe.
Wednesday 17 May 2023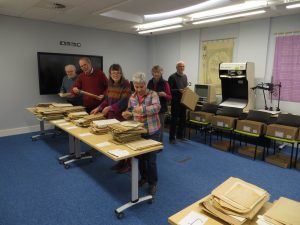 A small group of members was taken behind the scenes at the Gloucestershire Archives in Alvin Street by John Putley and Jemma Fowkes. The storage facilities were visited and among items seen was a parchment from the thirteenth century! The problems of looking after the millions of documents, keeping all the bugs etc. at bay were explained. We visited the Gloucestershire Family History Society room – their facilities and assistance are available free to all. Finally, in the Frith Room, John had displayed many really interesting documents that involved Chalford. A most worthwhile afternoon. [The picture was taken when members of CPLHG were cataloguing the Fred Hammond Collection in March 2022]

Wednesday 19th April 2023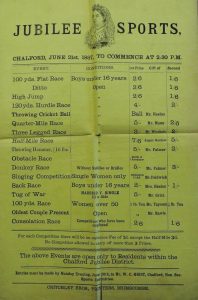 A wonderful selection from Mike Mills collection was shown, with commentary by Roger Carnt, Camilla Boon and Pete Drover. Many of the photos had not been shown in recent times. Most amusingly there was the report of the Jubilee Sports celebrations in 1887 in Chalford, with wonderful prizes, ranging from a razor blade to a lb of tea!
Wednesday 15 March 2023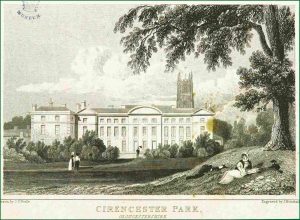 Secret Cirencester
David Elder introduced us to some little known people, places and events in this town best known for its Roman history. Elizabeth Brown (1830-1899) was a ground breaking (though largely unrecognised) astronomer of her age, whilst Grace Hadow, a leading Suffragist, convened a gathering of 3-5,000 outside the Parish Church, as well as playing a prominent role in the W.I. locally and nationally. The composer Peter Maxwell Davies was music master at the grammar school, and Madame Tussaud brought her travelling show to the town before establishing her exhibition in London. Worth looking out for are the three stone carvings above the porch of the parish church – a weasel, a buffoon and a crouching faun.
Wednesday 15 February 2023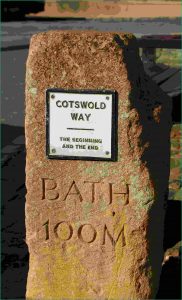 The Cotswold Way: 100 miles of history
Dr Steven Blake took us on a tour of some of the fascinating sites along the national trail, which opened in 1970. Starting with the Stone Age long barrows of Belas Knap, Hetty Peglar's Tump and Nympsfield, we touched on the Bronze Age barrow at Shab Hill and the Iron Age Hill Forts at Crickley Hill, Begbury Hill, and Sodbury. The impact of the Romans can be seen at Chedworth and Brockworth. Ecclesiastical buildings or ruins of note can be found at Winchcombe, Haile's Abbey, Bath, Leonard Stanley and Tormarton, whilst there are many outstanding secular buildings such as those at Stanway, Horton Court and Dyrham. The Cotswold Way is also marked by towers at Broadway, North Nobley (Tyndale monument) and Hawkesbury Upton (Somerset monument). An excellent overview that inspired many to walk the route – either for the first time or again.
Wednesday 17 January 2023
My Early Years in Chalford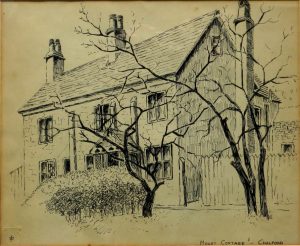 Peter Davis gave us a very interesting insight into his life in Chalford, where he lived until he married in 1961. Born in Bussage, he first went to Bussage School and he showed us his photo taken at the time of the 1937 Coronation. Shortly before WWII the family moved to Mount Cottage on the A419 and during the war had several men billeted with them. Peter described unhappy times at school and much happier times as a choir boy at Christ Church with Revd Carder. For the 1953 Coronation he helped floodlight both the school and Christ Church, at a time when proper lighting was not available. He finished with many tales about his family at Tankard Springs Cottage. A most entertaining evening.