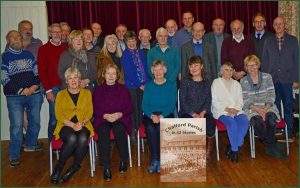 Chalford Parish Local History Group was formally convened in September 2016 after a series of very successful monthly meetings beginning in May of that year.
We currently have over 60 members and are on Facebook.
This website is evolving so do keep returning as new material is being added all the time.
The picture on the left shows the contributors at the launch of our book Chalford in 42 Stories, available in local shops. Please click here for more details.

Our next meeting is on:
Wednesday 20th February 2019 at Frith Youth Centre, Brownshill at 7.30pm 
A History of Nonconformism in Bisley Parish: An illustrated talk by John Loosely
We meet monthly except August and December, normally on the third Wednesday of the month.
Our current programme is here and other local events of historical interest here.