Wednesday 15th May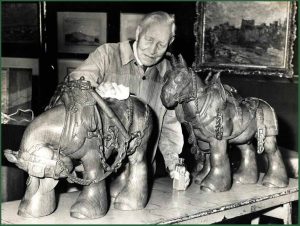 William Simmonds (local artist and  sculptor) and friends
Jacquie Sarsby gave an interesting account of Simmonds' work, from toy making to murals, aeronautical engineering, to cabinet painting and sculptures of animals. His marionettes, dressed by his wife Eve (a skilled textile worker) were known nationally, and puppet shows toured in aristocratic circles. His association and collaboration with others in the arts and crafts movement such as William Rothenstein, Norman Jewson, Fred Briggs, Phyllis Baron and Dorothy Larcher was also covered.
Wednesday 17th April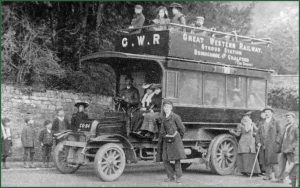 Transport in Chalford Parish
With another of his popular slide shows Mike Mills gave us a fascinating insight into modes of local transport from donkeys and horses (including the Chalford Fire Brigade!), to push bikes and motor-bikes, trains, cars and early lorries.
Wednesday March 20th 2019: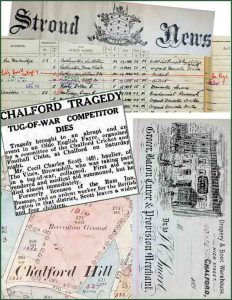 Rose Hewlett gave a fascinating talk entitled 'A Village through time' tracing the development of Frampton-on-Severn from the earliest settlers on. She showed how written records, and studying the archaeology and architecture of the village had helped piece together its history. Important developments included the old Manor (now Manor Farm), the Wool Barn, Frampton Court, and the Gloucester and Sharpness Canal. The annual  Frampton Feast can be traced back over 800 years.  'Frampton on Severn: an illustrated history' by Rose Hewlett and Jean Speed is available from Rose.
Wednesday February 20th 2019: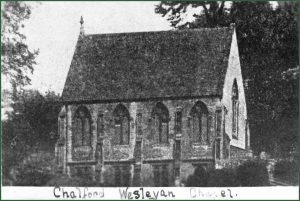 John Loosely's account of Nonconformism in Chalford set out the context of suppression of Puritan practice (through the 1662 Act of Uniformity), followed in 1688 by the Act of Toleration, enabling different forms of worship to flourish. The wide range of faith groups represented in the parish was covered – the independent France Meeting (later merging with Congregationalists), the Baptists (probably the largest group with chapels in Chalford, Eastcombe and Bussage) and Methodists (Wesleyan and Primitive). A driving factor for some pioneers appears to have been concern about 'drunkenness, immorality and rough living'! The building of many chapels was funded by private individuals. Congregations of 330 or more were common.
Wednesday January 16th 2019: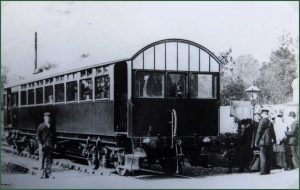 Gloucestershire Railways
Tony Conder gave a fascinating overview of the county's railway network, which grew in the late 19th century to a point where there were 150 stations. Now there are just 10. Gloucester was originally the hub of the network, with lines of different gauges meeting, linking to the docks:  'Lost in Gloucester' was a common phrase as goods were transferred from one system to another. Railways were used for freight, work and tourism (e.g. Symonds Yat, the seaside) and in the war for munitions (e.g. Quedgeley) and transporting new recruits and wounded soldiers. Some lines were dismantled during WWI for re-use in France and were never replaced, many other were lost in the Beeching cuts.